For centuries, the term crêpe has made people's minds swirl with images of the romantic sidewalk cafés of Paris. A warm breeze, elegant decor and a ready waiter are usually a part of the scene. Yet, a crêpe does not have to be thought of as a lavish treat. It's simply a wonderful meal.
The Crepe Station has taken the wonderful concept of the crêpe from the romantic sidewalk cafés of France, and Bistros all over Europe and is proud to share this unique, fresh and healthful dish with the local community.
We love crêpes. It all started with a simple craving for great crêpes…
We had a dream to revive the art of eating crêpes. We started traveling in Europe and the United States looking for the perfect crêpe, and everywhere we could find crêpes we ate them. We then decided to take matters into our own hands and started in our kitchen experimenting with batters,
temperatures, ingredients, and timing. Consequently, we developed many recipes with flavors from all around the world. After that, maybe it was the sweet smell of delicate batter cooking, or maybe it was the over consumption of Nutella, but the drive to bring this business into reality could not be stopped. The Crepe Station had begun, and we were on a mission to sweeten Southern Utah!
Since its beginning, The Crepe Station is proud to participate in many festivals and special events in Southern Utah.
At The Crepe Station … everything is fresh and natural, nutritious and, of course, delicious. Our choices of sweet and savory crêpes are filled, folded, wrapped and handed to you in one neat package that you can eat on the go or take with you and enjoy at home. The Crepe Station is a tremendous experience for the eyes, nose and especially the taste buds.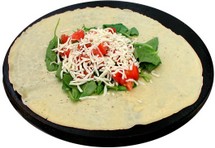 Come and eat like the King in France !
Did you know that the famous crêpes suzette was actually made out of a mistake by assistant waiter Henri Carpentier in 1895 when preparing a dessert for the Prince of Wales, the future King Edward VII? Try one of our authentic French Crêpes and find out why the Prince was so delighted. You can choose from over 10 different crêpes – sweet and savory.
We have it all - Breakfast, Lunch, Dinner & Dessert!
Good Food - Reasonable Prices!